Is this you?
You need a separate space to take a breather?
You want to continue to develop yourself (beyond your homeschool mama role)?
You want to feel more energized for each homeschool day?
You want to know that you've got a plan & routine to address your needs?
You want to be clear on why you're doing what you're doing?
You want to be clear that your "why" aligns with your "how"?
You want to feel like you've got enough bandwidth to deal with the specific challenge in your life or homeschool right now?
You want to know you're showing up on purpose?
Dear Homeschool Mama, do you need a retreat?
A retreat to help you acknowledge and address your emotions: possibly overwhelm, doubt, unrealistic expectations, perfectionist tendencies, guilt, and not-good-enough feelings.
A retreat to release your (unhelpful) homeschool mindsets.
A retreat to renew your homeschool vision.
A retreat to create a plan of self-care for you!
A retreat to align what you're doing in your daily homeschool routine with how you want to do it.
A retreat to reimagine how I want to show up in my homeschool & life.

So I ask you, what would life be like if you could have a retreat?
Deconstruct a few unhelpful mindsets that are getting in your way?
Clarify your homeschool vision so it aligns with your actual daily activities.
Create a plan to show up in your big emotions (& your kids too).
Conceptualize self-care strategies that would serve you in your demanding life.
Discover who you are beyond homeschool mama, so can nurture your life purpose beyond the homeschool mama role.

A retreat so you can show up on purpose in your homeschool & your life with clarity, confidence, and renewed vision.


Imagine if...
You have separate space to take a breather and continue develop the you that will be with you after you're a homeschool mama.
You feel energized for each homeschool day, present with your kids, and happy to create homeschool memories.
You're confident that you're nurturing the nurturer as much as you're nurturing your kids.
You've got a plan & routine to address your needs.
You're clear on why you're doing what you're doing, because you've decided on your "why" & it aligns with your "how".
You don't feel like you've got enough bandwidth to deal with the specific scenario in your life or homeschool right now.
You know you're showing up on purpose (though you're not always perfect at it, you're doing it on purpose most of the time, and can forgive yourself when you're not.)



Can you relate? (I have experienced each of these at times myself)...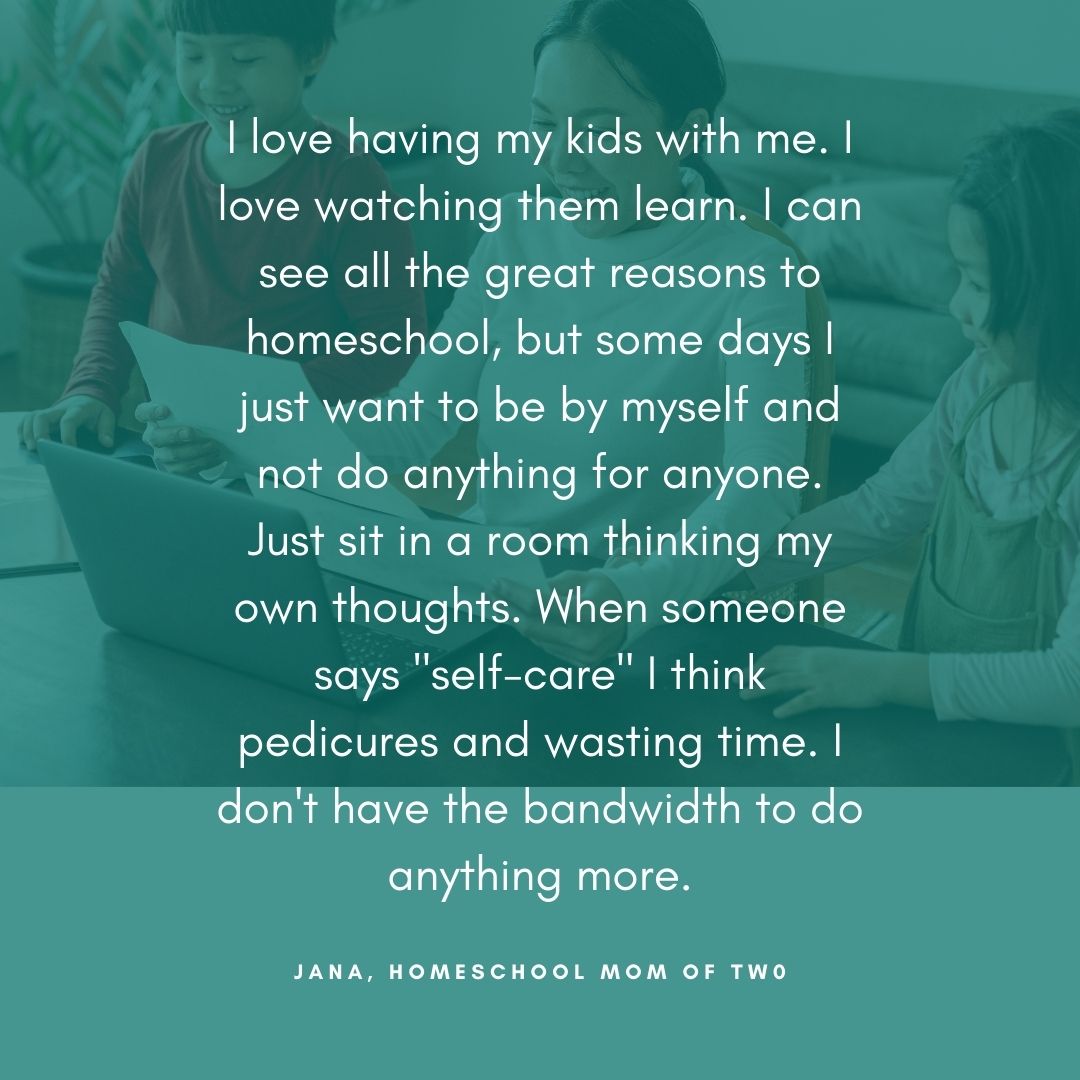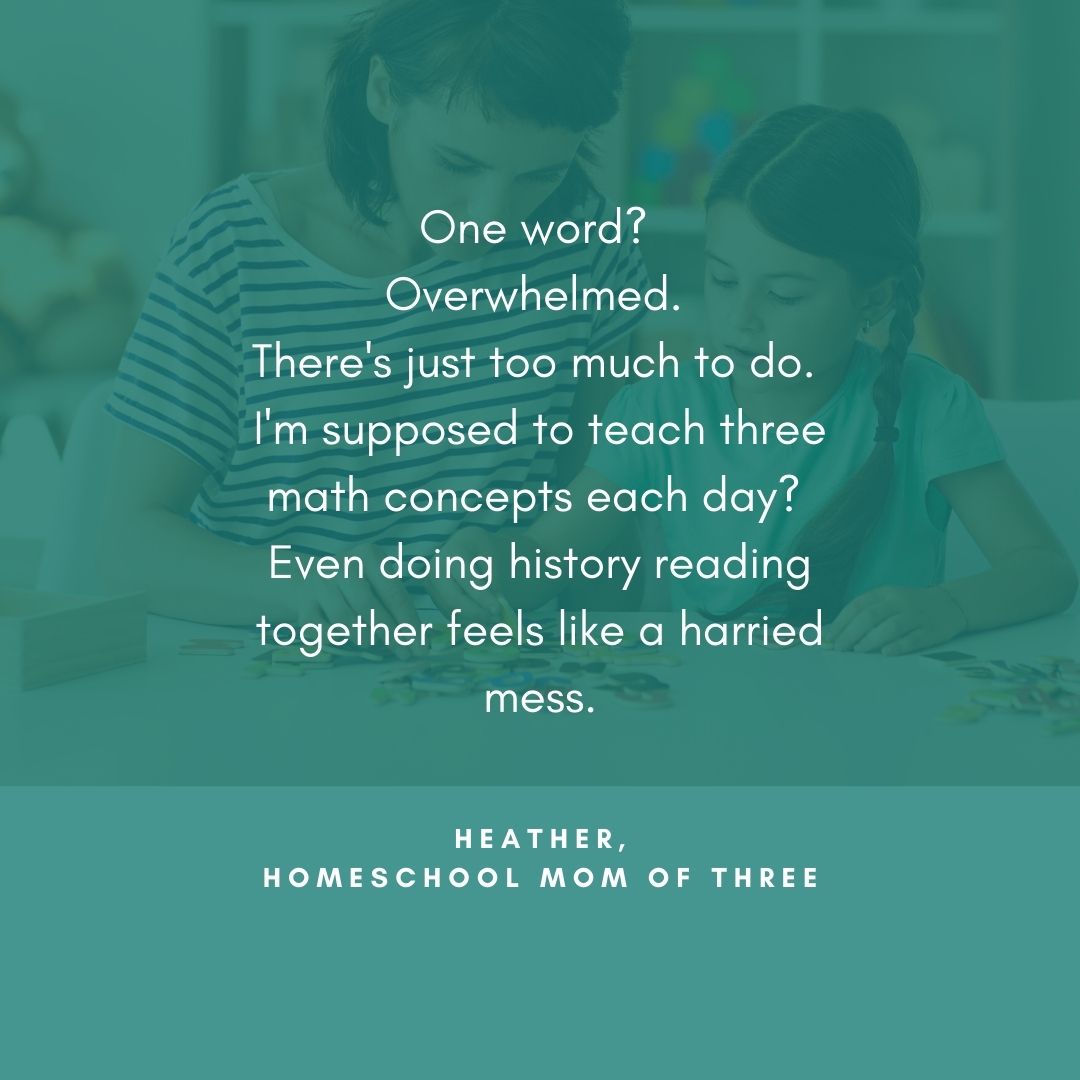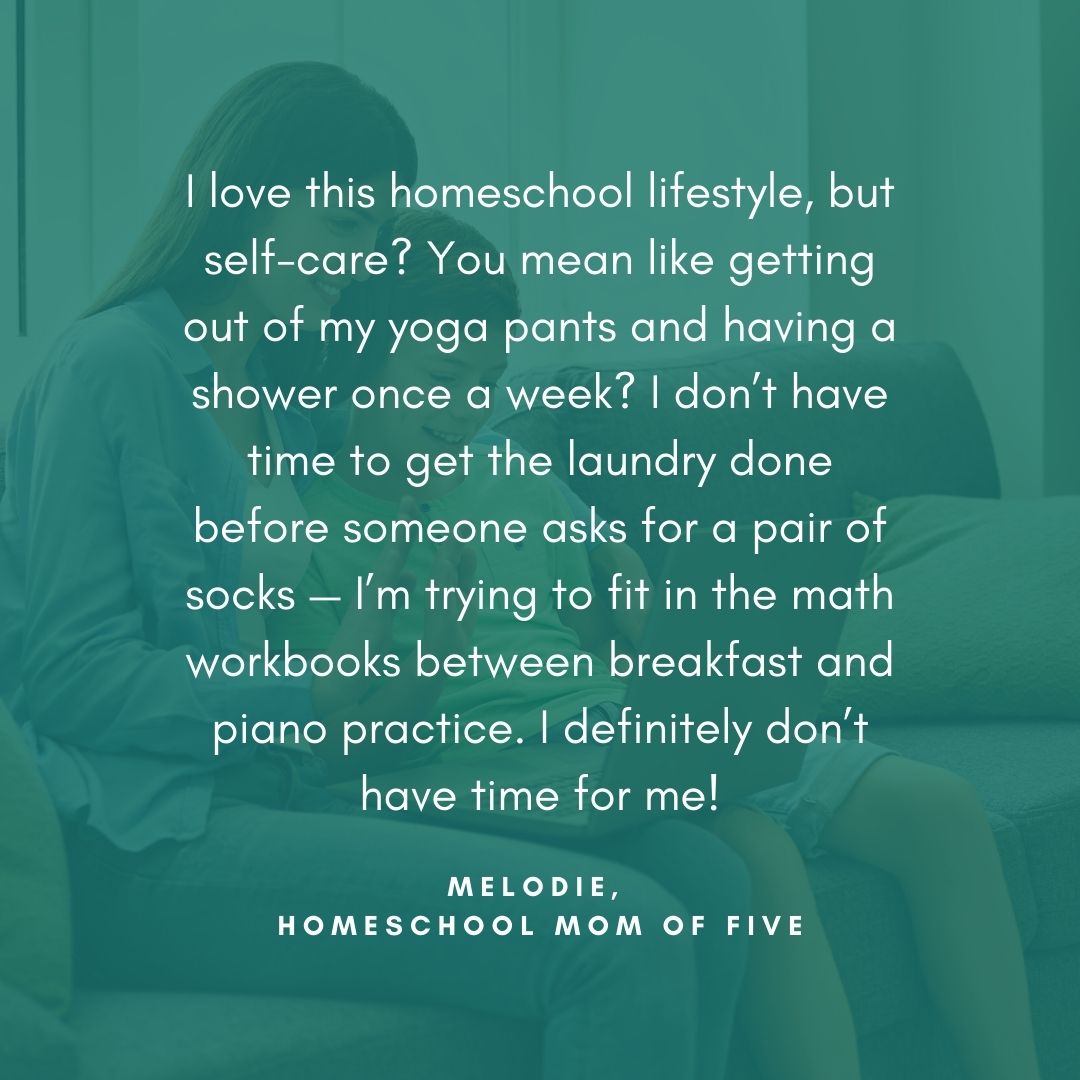 You need some separate space.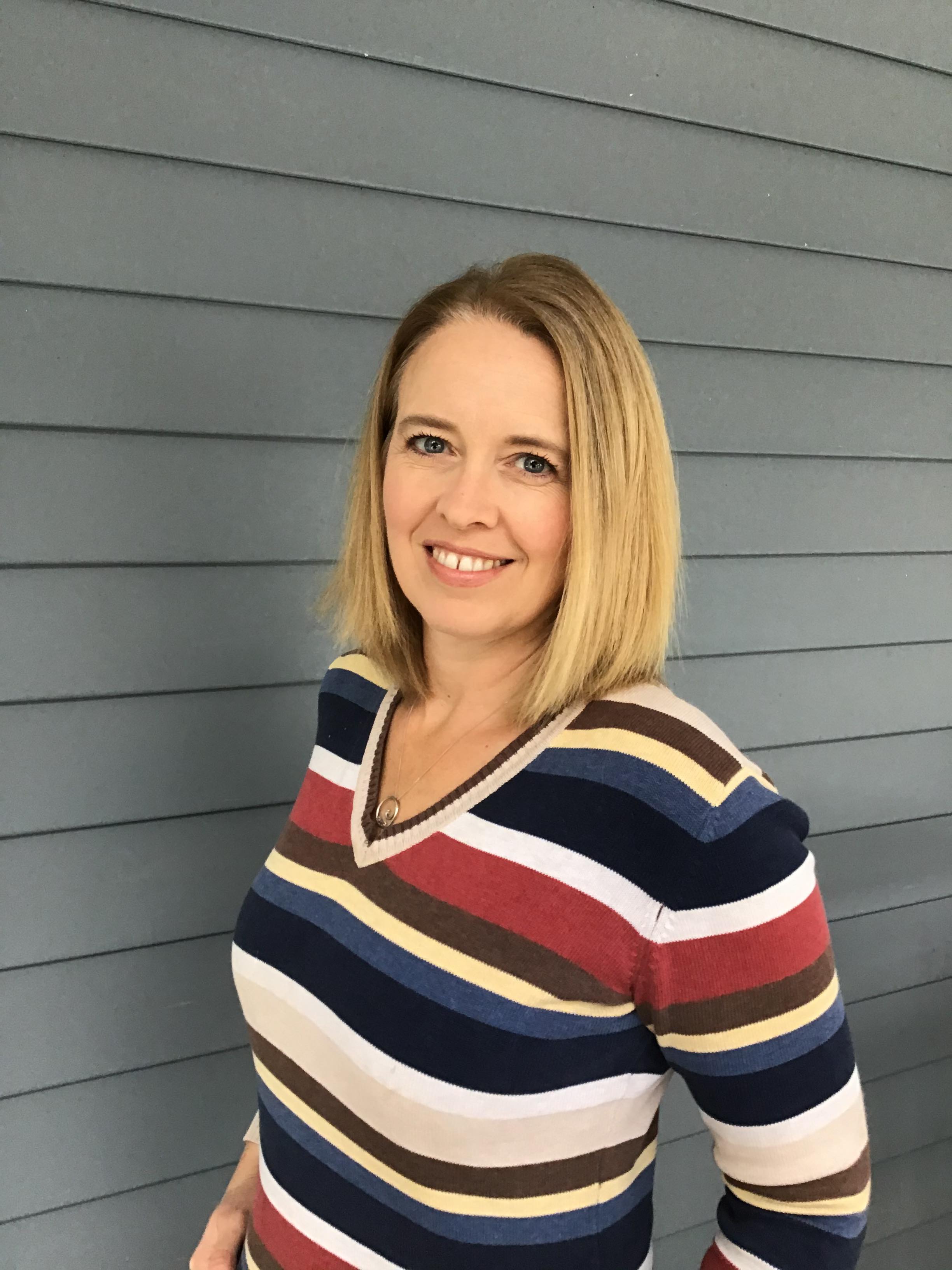 Somewhere in my third year homeschooling, I was done.
In my heart, I was mouthing the words "help me" as the school bus drove by. I found myself reacting to kids' squabbles or perpetually irritated that a child wouldn't show interest in his studies, by saying, "If you don't...then you're getting on that bus Monday morning."
I knew I didn't actually want to research the local school's telephone number, but I definitely didn't know what else to do.
I was done.
I didn't have time for me.
I felt overwhelmed.
I was bored by yet another repeat of the same curriculum.
I did everything as perfectly as I could, but had this feeling it wasn't good enough.
I wondered if I was doing right by my kids' education.
Until I watched a Brene Brown TedX Talk and realized I didn't even factor ME into my life. What did I need?
I learned I had to take care of ME to take care of my kids.
Alongside planning for your homeschool, you need to choose YOU too.
Whether you've been homeschooling for one month or twenty five years, you need to routinely practice taking care of you. So I offer you a way to do just that: to retreat, get away, take a breather, and reassess your homeschool & life.


See what others are saying:
"I recommend this (retreat) for everyone. I've been making my way through your retreat and loving it! Your voice has a very soothing quality. It has been a special time. Teresa is a gift with the best humour. I am so blown away by the care you take to really get to know who you are mentoring/talking with. It's so rare these days." -- Brynn
"Teresa is the real deal! An experienced homeschool Mom who's been there and can help others get out of overwhelm. Her ability to hold space for silence and difficult feelings makes her "no small talk" approach so effective. I trust her. Her retreat, resources and ask me anything meetings have served me tremendously. I'm so glad she's in my corner!" -- Carrie
"I feel like you know me. You offered helpful suggestions to rejuvenate and equip any homeschool mom in whatever stage she might find herself in.
I enjoyed our candor and your laughter, your caring, and your insights. You have allowed the experiences that have challenged you to be the catalyst to helping others.
This retreat is for anyone has who has lost sight of themselves in the midst of living a busy life and wants to refocus on what's truly important.
I hope all of your retreats bear fruit into deflated women like me, changing their defeat into delight once again, or for the first time.
I told you at our first session that I was looking for hope and the tools unpacked in this retreat have given me hope!" -- Cheri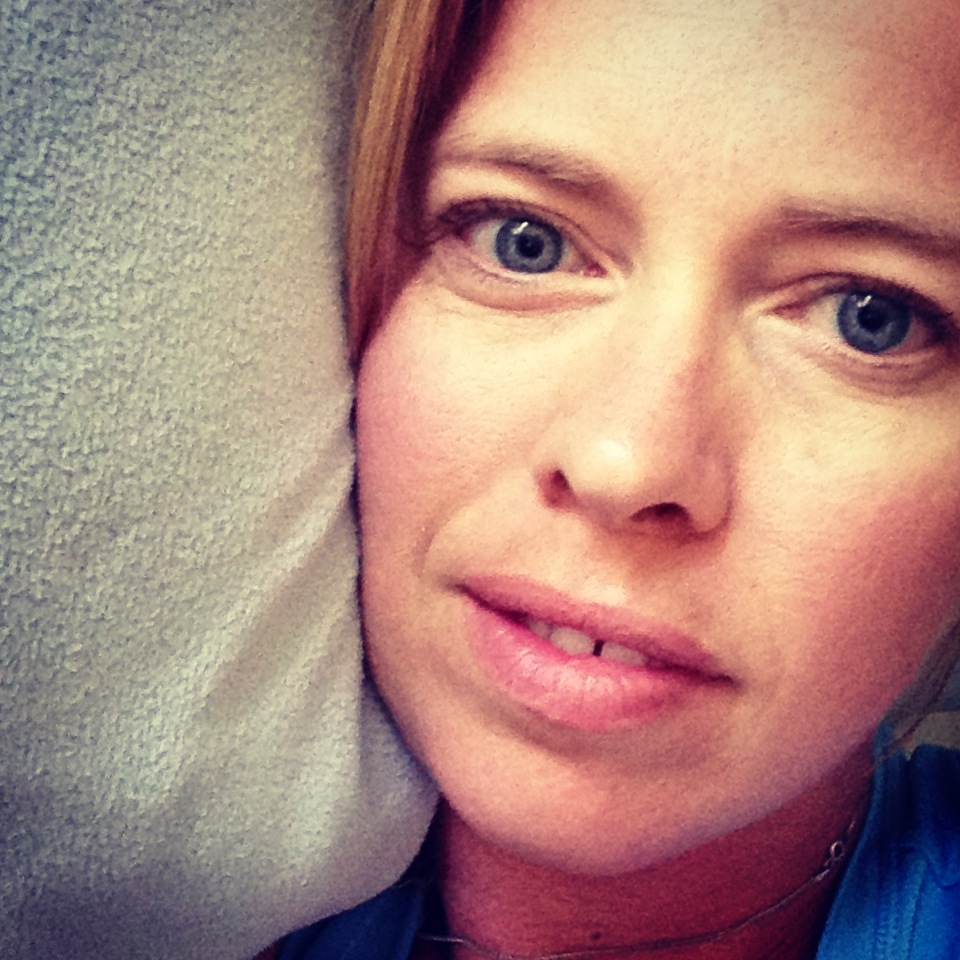 So final thoughts...


The Homeschool Mama Retreat will help you develop a routine to self-nurture while reimagining, reenvisioning & recreating your homeschool (& your life).

Frequently Asked Questions



Where do I access the journaling notebook?
There are downloadable PDFs at the end of many lessons. None of them may be recopied for other uses but your own.
When will I receive my book & self-care package?
Along with an email request to discuss appointment times, I'll be asking for your mailing address and sending them straight off!
How do I schedule my coaching sessions?
Upon purchasing the retreat, you'll receive a direct email to discuss appointment times.

Can I purchase coaching sessions beyond this retreat?
Absolutely! If you want to continue our coaching, I'd be delighted to continue.

Check your inbox to confirm your subscription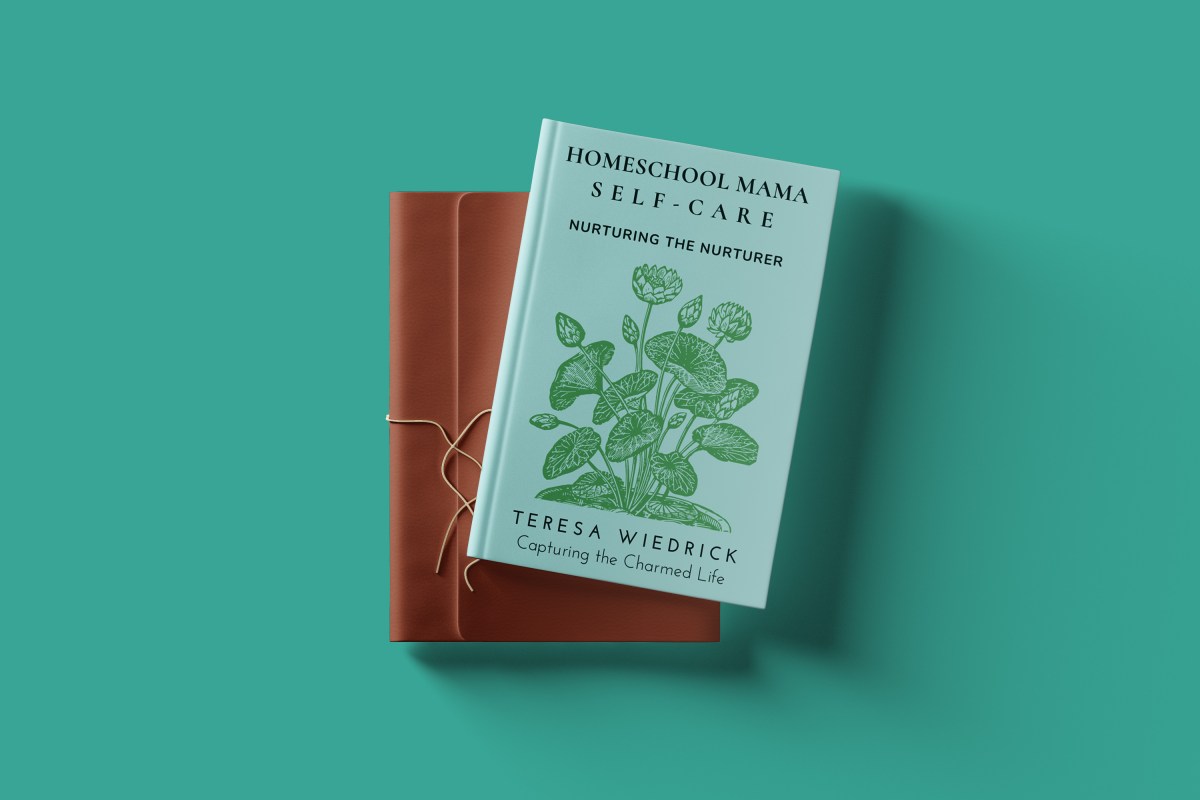 Read the Book!

"Clearly, Teresa writes from years of valuable experience, and so generously shares them with new homeschool momma for their benefit. If you're trying to figure out how to get started taking the stress out of your homeschool day, the section where she shares her own story of overwhelm is pure gold! You'll find solid, experience-tested examples from her own life on creating an environment that is conducive to real education. Also, take note of the authors she recommends as her influencers. If you have to pick a section to start somewhere, there it is!"
~ Pat Fenner, BreakthroughHomeschooling.com
"My homeschooling journey has included a growing pile of books that I have read, browsed, or barely got past the first chapter. This book is just delightful and a gem! It's not only helpful and inspiring but also funny. The author is like that no nonsense brave friend who is looking out for you and your well being as a homeschooling mama. We all need that friend and I am taking my time as I work my way through the chapters and enjoying it all. I love the section on overcoming overwhelm, grappling with perfectionism and minding and working through our emotions. This book is worth its weight in gold. Find a quiet place to read, bring a warm cup of tea, and enjoy!"
~Sonia, Homeschool Mama in S. Jersey
"I was just reading through the chapter in this book last night about anger and failure. Whewww, like you're speaking right to me. Thank you for being so honest about those things. Every night I can't wait to jump back into your book. Thank you for so authentically sharing about the moments and feelings we all experience, but rarely go into detail about."
~ Bacci
"Wonderful book. Down to Earth and relatable. A must-read for homeschooling moms."
~ Celeste Tio
"Parents take on homeschooling with gusto, but often find themselves burning out in the first year by trying to do too much and being the ultimate educator. Teresa takes on the topic with a book overflowing with ideas to make a parents and child's day go smoother. Letting go of unrealistic expectations and the school model of education goes a long way in acquiring serenity in home education. Understanding how the uniqueness of home education unfolds and why children never stop learning, no matter how much teaching is done, is key to success. Homeschool Mama Self-Care: Nurturing the Nurturer, with a cup of tea, is essential for all new-to-homeschooling parents and guardians."
~Professional Parenting Canada
"This book is a must have for any homeschool mom. Full of practical tips and lots of encouragement. I love how Teresa is open and honest, sharing her story along the way."
~Meghan, Joyful Mud Puddles