We'll do this together...


Enable each other to address and understand our boundary challenges with practical tools & insights.

Create an authentic and gently accountable community amongst women who want to show up more intentionally in their homeschools & their lives.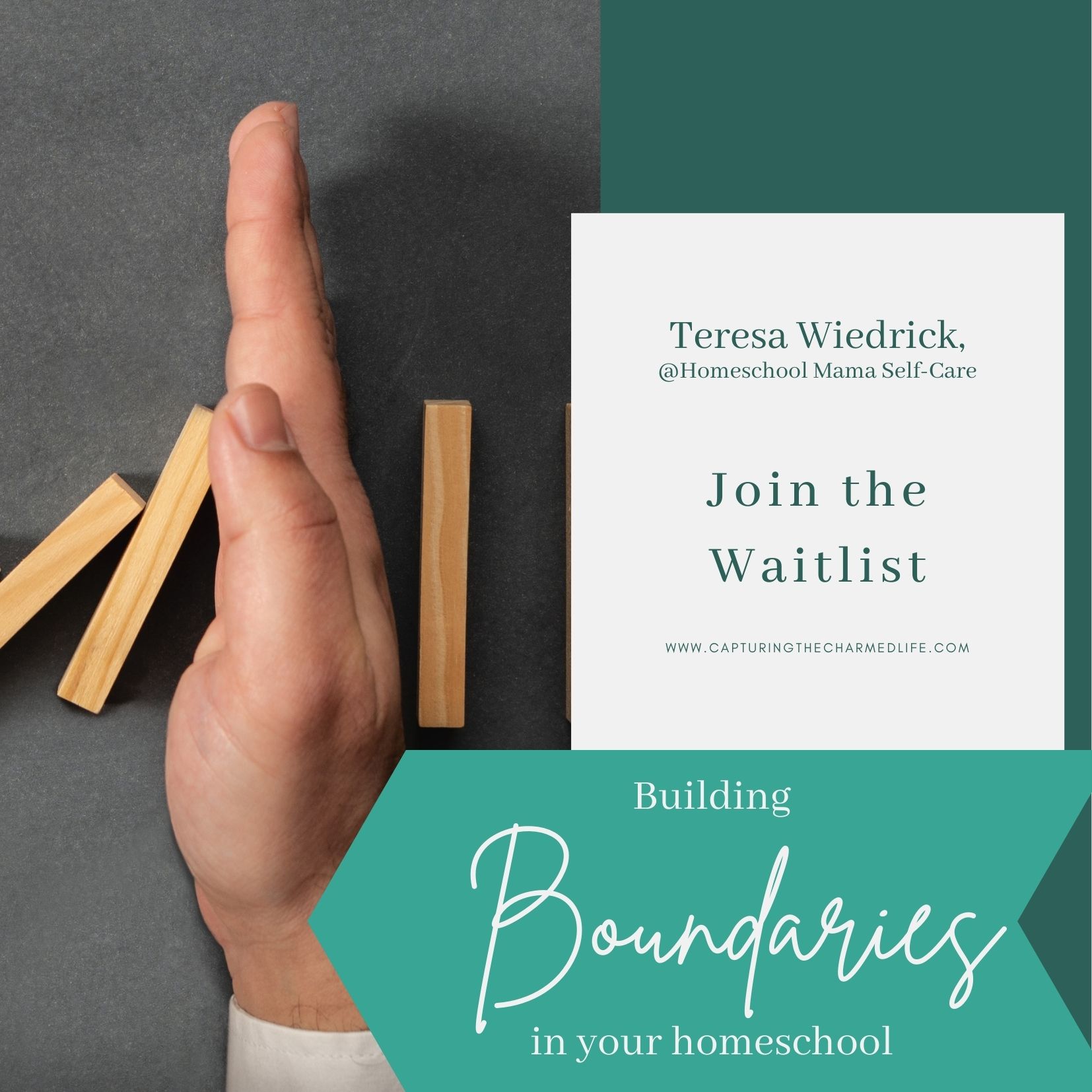 Let's build boundaries into your homeschool & your life.
Let's clarify your needs, your relationships, and your identity.

Oh, and the biggest benefit: 
practically transforming how you approach yourself (which directly influences others), 

shifting your relationships towards satisfying your needs & others needs, 

clarifying your identity (& thereby your daily (& meta) purpose)
So that you can build boundaries that will transform how you learn to advocate for you so you can become more you and live your life on purpose.


You're reading this because you know you have issues with boundaries but you're not clear why, and you're definitely not sure how to change it.
You spend too much time thinking about...

what other people think about your homeschool
knowing that you want more time for you but not getting it
answering the phone when you should be eyeball-to-eyeball with your kids
recognizing that you need more time spent on developing you but not sure how or where you can do that
spending more time doing extracurriculars because people are asking you to participate, even though you want a quiet day at home
giving your time away in meaningful things, but not the most important things
fielding unsupportive questions about your homeschool choice
feeling exhausted by conflict with your partner 
knowing you're not showing up as you'd like with your kids but you're not sure why
feeling guilty or ashamed at how you're showing up with your kids
desperately wanting a separate space or time away from your kids
feeling your kids are mistreating you or disrespecting you, but you can't quite figure out if that is just them being kids
you feel unsupported and you don't think you can ask even the most important people in your life to help

Straight up, if you identify with these thoughts, you need boundaries. 
I've come to understand that the energy we have for our homeschools (& lives) is directly proportional to our established boundaries:

the boundaries we have in our relationships,
whether that be our relationship to others or ourselves,
and also how we're framing the vision of our homeschool.

Here is what you need to be willing to do:
· Be authentic as you share boundary challenges in the coaching sessions.
· Dig as deep as you can.
· Block off the time on our agreed-upon-together time.
· Let me know outside the group coaching time what is or isn't working for you.
· Let me know at the end of our time together what did or didn't work for you & how the group coaching benefited you.
Frequently Asked Questions
Can I get a refund if I'm unhappy with my purchase?
If you are unsatisfied with the intensive, reach out to us to see if your purchase is eligible for a refund.
When will I receive the Intensive Zoom link?
In your email inbox the morning of our time together.  (Make sure your email provider hasn't thrown it into Junk Mail).

How do I interact with the participants in the Intensive?
You can also join the Patreon community and have monthly support chats too.
And join the Homeschool Mama Book Club too!


You get...
The self-directed course, 4 weeks of group coaching, and the Building Boundaries Journaling Workbook.